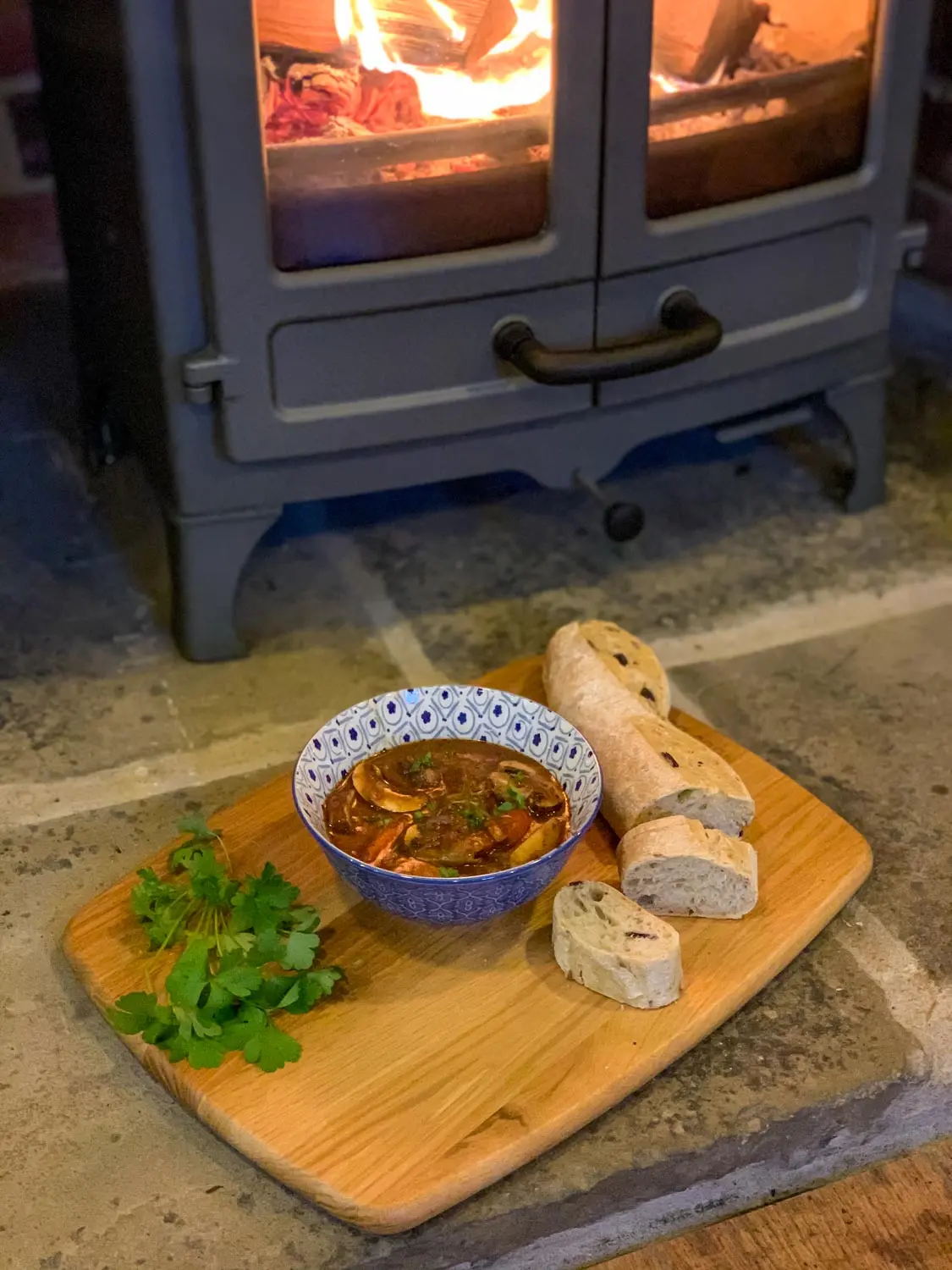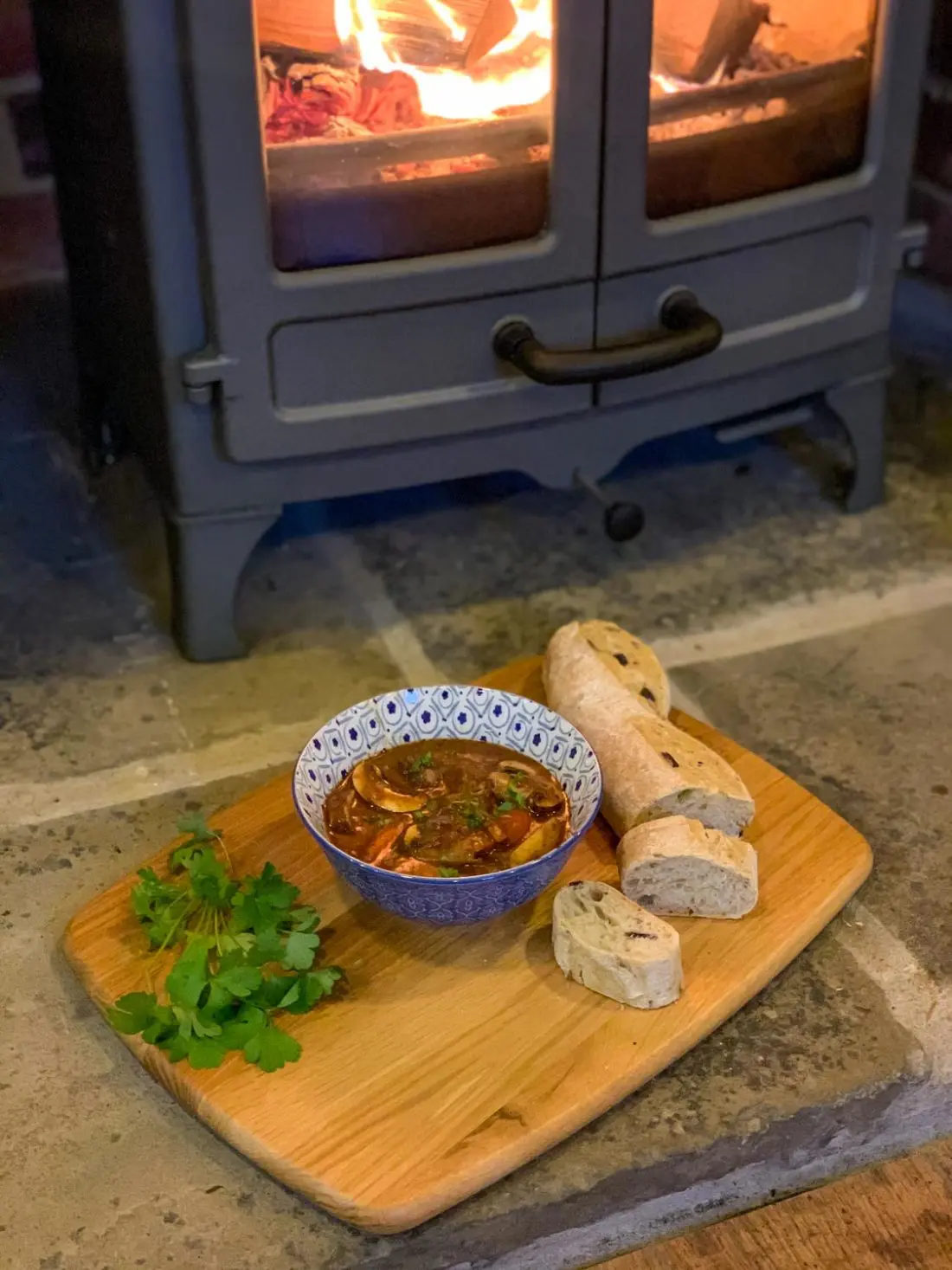 Lets Cook – Log Burner Beef Stew!
It was great to see how well our first instalment of cooking on the log burner was received.
This is our second instalment, and this time we decided to cook one of my all-time favourite winter meals, beef stew with carrots and potatoes. We cooked on the Charnwood Island 1 multi-fuel stove using the new Charnwood Cooking Plate.
Although we used the cooking plate, the same can be achieved by using a cast iron trivet and a good thick-bottomed dish. Our cast iron enamelled pan was purchased a few years ago for around £30.
We tried a fantastic recipe from onceuponachef.com and added our own little twist to personalise. The beauty of a stew is you can pretty much throw any old vegetables into it and still get a fantastic result. If you have a go at this one, please send us your results.
There are no definitive origin stories for the humble stew, as it is one of the most ancient of cooked dishes. Even though we used a modern stove and a purpose-built cooking plate, there was definitely something primordial about cooking this stew with wood fire.
Here's how we cooked our stew:
Ingredients
1.5kg boneless beef (well-marbled), cut into 1-2 inch pieces
2 tsp sea salt
1 tsp coarse ground black pepper
3 tbsp olive oil
2 medium onions, cut into 1-inch chunks
7 cloves garlic, peeled and crushed
8 mushrooms, chopped in half
2 tbsp balsamic vinegar
1 tablespoon tomato purée
1/4 cup all-purpose flour
2 cups beef broth
2 cups water
1 bay leaf
1/2 teaspoon dried thyme
1 tsp sugar
4 large carrots, peeled and cut into one-inch chunks on a diagonal
Half a kilo of small white potatoes, cut in half
Fresh chopped parsley, for serving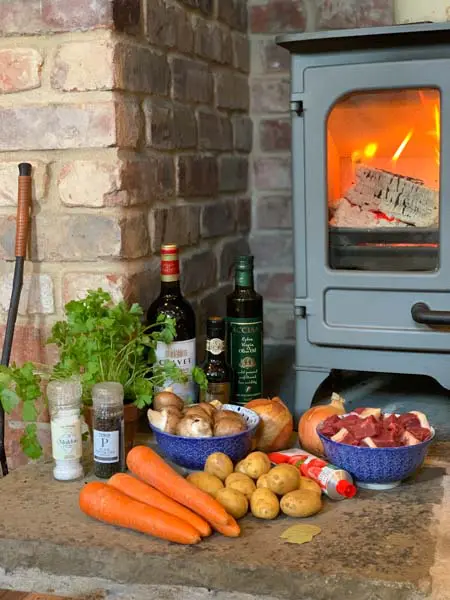 Log Burner Preparation
Get your log burner going. Kindling, firelighters, matches. Once the wood stove is hot enough, it's time to add a couple of good sized logs. 
While these are burning away nicely, you can start preparing your stew. 
Stew Preparation
Add 1 tablespoon of the olive oil to the cooking pot and place on the cooking plate to heat.
Chop the onions, mushrooms, carrots and potatoes and peel, crush and chop the garlic.
Slice the beef into 1 to 2 inch pieces.
The Cook
Season the beef with salt and pepper.
Sear the meat in batches, turning regularly, for about 5 minutes per batch and add one tablespoon of olive oil extra for each batch.
To sear the meat properly, do not crowd the pan and let the meat develop a nice brown crust before turning.
Transfer the meat to a large plate and set aside.
Add the onions, garlic and balsamic vinegar. Cook, stirring with a wooden spoon and scraping the brown bits from bottom of the pan, for about 5 minutes.
Add the tomato paste and cook for a minute more.
Add the beef with its juices back to the pan and sprinkle with the flour. Stir with wooden spoon until the flour is dissolved, 1 to 2 minutes.
Add the wine, beef broth, water, bay leaf, thyme, and sugar. Stir with a wooden spoon to loosen any brown bits from the bottom of the pan and bring to a boil.
Cover the pot with a lid and braise for 2 hours, checking regularly to ensure it doesn't boil over. You may need to add more logs in this time to maintain the heat.
Remove the pot from the stove and add the carrots, mushrooms and potatoes.
Cover and place back on the stove for about an hour more, or until the vegetables are cooked, the broth is thickened, and the meat is tender.
Fish out the bay leaf and discard, then taste and adjust seasoning, if necessary.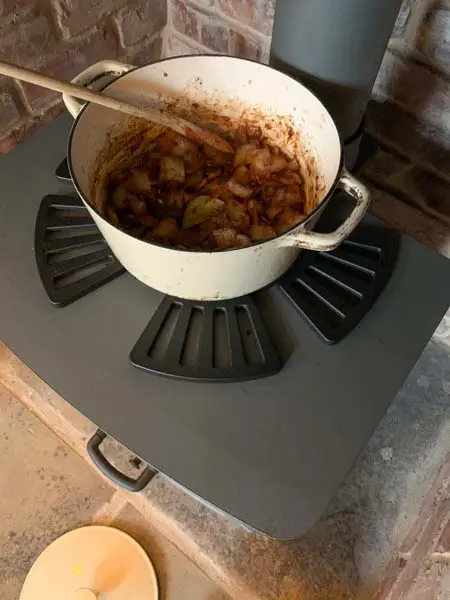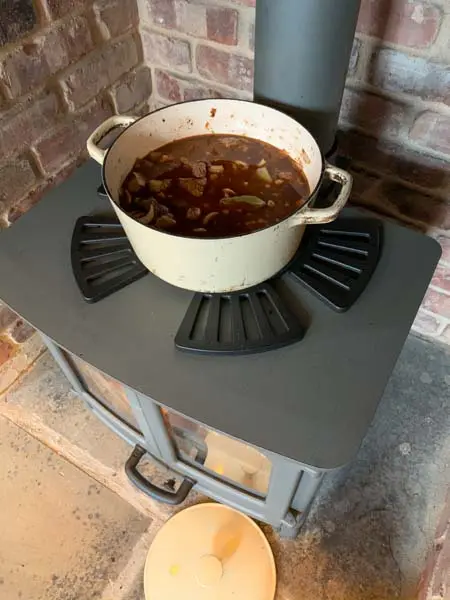 The Result!
An absolutely scrumptious, hearty stew which is rich in flavour and has beef that just melts in your mouth. 
Garnish with some fresh parsley and some fresh bread. Magnifico!
We will be cooking a lot more dishes on and in our stoves so keep an eye out for our posts!
If this has inspired you to try this at home you can tag @ignitestoves on facebook or instagram.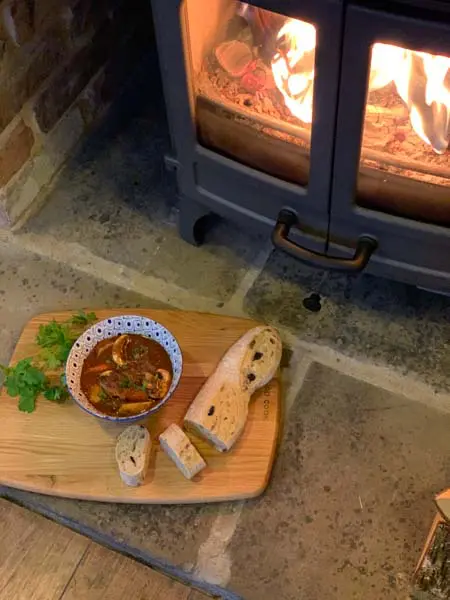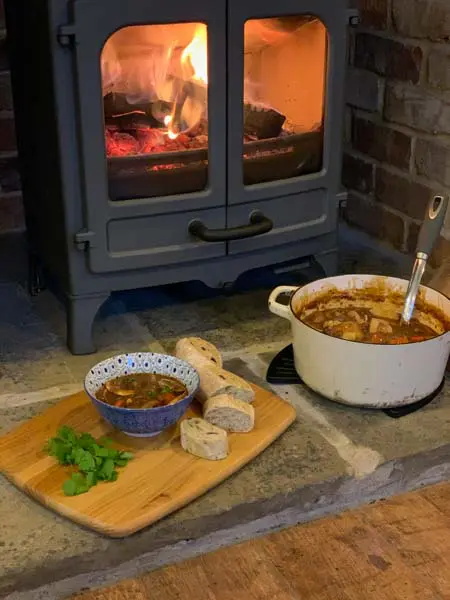 onceuponachef.com is a fantastic recipe website created by Jenn Segal, a classically trained chef and author.
You can follow her on Instagram or Facebook to for more inspired dishes like this one.
We will be following her closely, looking for further inspiration for delicious dishes we can cook on our stoves.
Keep an eye out for future dishes and please tag us If you give this a try at home  @ignitestoves on facebook or instagram.